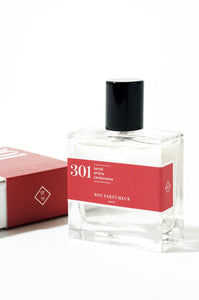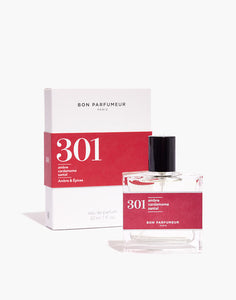 301 Eau De Parfum
Regular price
Sale price
£45.00
Tax included.
Shipping
calculated at checkout.
---
Designed by expert perfumer Alexandra Monet, Bon Parfumeur 301 Eau De Parfum is an amber, cardamom and sandalwood based blend with top notes of Cypress, Cumin, Ylang Ylang, Thyme and Cardamom.

Seduced by its assertive character? It's so easy to give in to the captivating spicy amber aromas of this fragrance. The top notes see a battle between warm and cold spices, with cumin vying cardamom to create a tension that exhilarates the entire scent. Behind this power lies the floral softness of jasmine, which adds volume and carries the sandalwood. The rich and intense facets of this wood become warm, sweet and milky. With its distinguished notes of dry woods, cedar elegantly completes the composition.
What is a cold spice?
It might seem strange but, just like colors, spices can be warm or cool. Cardamom is considered to be a cold spice, unlike cinnamon, cumin, cloves or nutmeg, for example. It has a slightly green, initially camphoric, terpenic scent, which is what earned the spice this label. Juniper berry also belongs to this family and injects real vigor. Karine Dubreuil Sereni used this spice in our 004 to recreate the idea of an icy gin. Perfumers use these fresh and explosive notes to structure the openings to their creations, drawing on warmer ones to build the heart and body of fragrances. Warm ingredients also add sensuality. Here, cumin introduces an animalistic dimension.
What is amber?
Amber reminds us of the scents of ambergris and oriental fragrances. These perfumes have sweet, smooth, vanilla-like notes with accents of cistus labdanum. Although we all picture amber as a yellow-colored substance, this isn't the kind used in perfumery.
Where sandalwood comes from ?
Its subtle charms captivate everyone, everywhere. Sandalwood is a soft, milky, mild and sweet wood that thrills us to the core! What makes it special is its very long trail. White sandalwood has a long history, originating in India over 4,000 years ago. The tree must grow for more than 30 years before its wood can be distilled and its essence enjoyed. The finest sandalwood is cultivated in Mysore in the Chamundi foothills in the south of the country. While revered around the world, it is strictly controlled by the government. A victim of its own success, sandalwood is becoming increasingly rarer. After heavy consumption, its production and export have declined over the last decade. In India, temple doors and sculptures are made from this mystical wood. Imagine the sublime soft scent that wafts through these special surroundings. Sandalwood is an integral part of religious rituals and wedding ceremonies.

Details - French Perfume

Presented in a simple, clear glass bottle
Delicately blended in FranceSpicy Amber fragrance 

30ml